Bill Sabram is a Transformational Experiences Designer specializing in games, well-being and learning. Welcome to this site.
Sketch to explore
Gaming to engage
Play to learn
Research to discover
Data to empower
Prototype to solve
World building to win
Present to give back
Bill's insights, ideas, and user journeys bring people together, fuel positive change, and launch new transformative products across multiple industries.
Sketch
Expert drawing skills. Master of storyboards. Bill thinks with a pencil and shares images to gain consensus.
Gaming
Relevant game mechanics, caring social dynamics, and frequent genuine feedback compel users to engage and stay for intrinsic rewards.
Play
Play is a vital human state, like dreaming. Playing helps us safely experiment, learn with gusto, and prepare for life's challenges.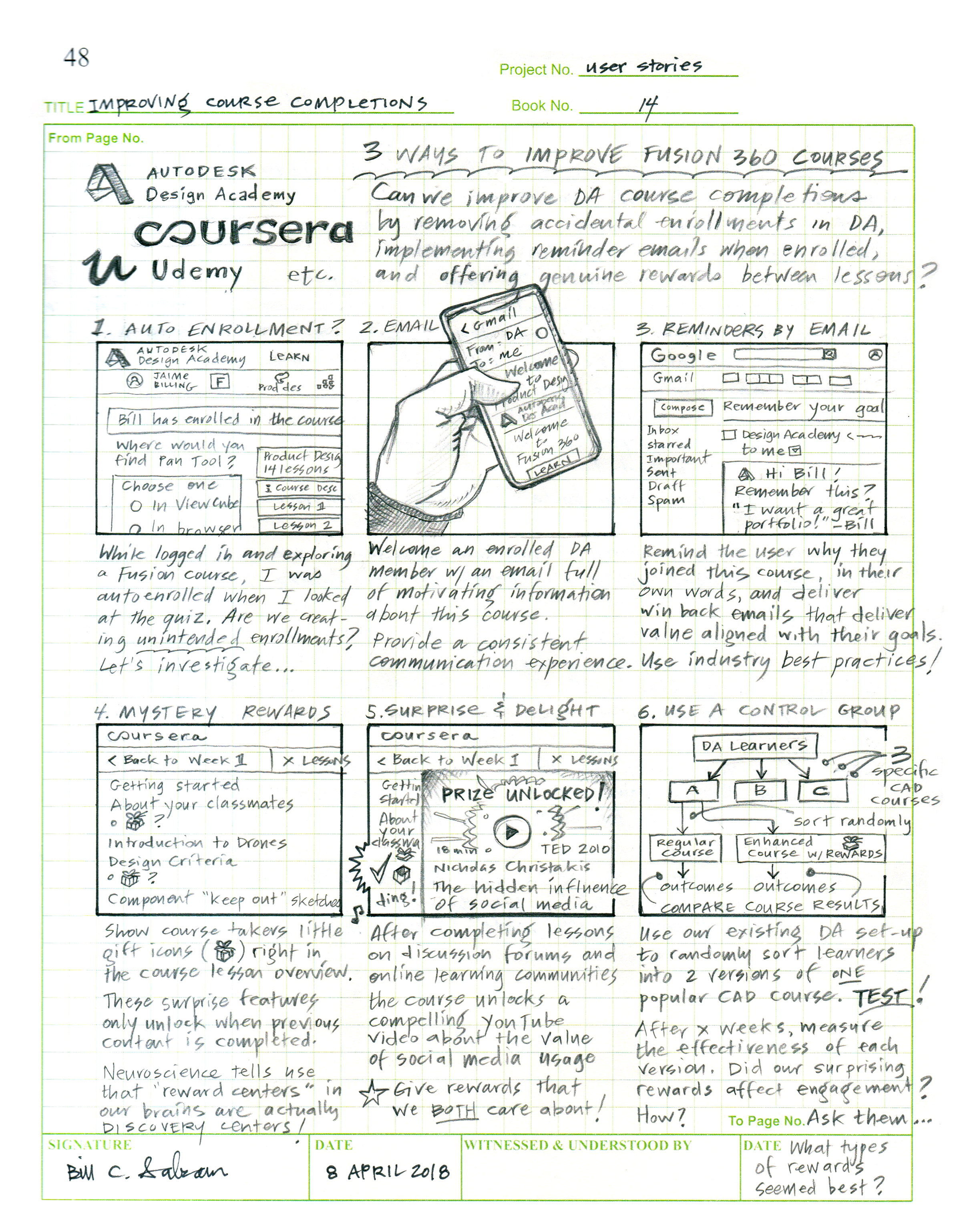 Research
User testing, focus groups, and play testing allow us to iterate our way to experiences that are worth repeating.
Data
How can we put all your data in context, and create communities that support personal growth? When we know how users can "win," machine learning can find new user flows.
Prototype
Until we make a prototype, all teammate assertions are true. Rapid prototypes are theory in practice, and 9 times out of 10, a prototype ends all debate.
Expert builder of rapid game prototypes (High and Low Fidelity). Enthusiast of new technologies. Prototypes help us answer questions.
World Building
Big picture thinking, or world building, encourages "end game thinking" and planning beyond the current sprint. This helps the team define how users "win".
Present
Give back. Speak about a topic you love. Frequent, engaging presentations ensure that as we grow in expertise, we don't lose the ability to clearly share what we know.
As a Principal Learning Designer with Autodesk, a leader in free software to design and make a better world, Bill Sabram created a learning prototype to help students, educators, and industries explore a peer-to-peer learning network. (autode.sk/commandmap) This work was featured in the CEO's opening keynote at AU 2017.

As the Lead Game Designer at MeYou Health, a pioneer in engaging, scientifically-validated, open social health products, Bill fused game design with behavior change theory to deliver data-driven web and mobile products that were fun and effective.

key skills:

• Visionary: Create, test, balance and specify a design vision that users love. Bill creates compelling experiences that are playful, engaging, and transformative.

• Leader: Passionate learner and problem solver skilled at integrating research, observations and fun into compelling solutions that inspire.

• Thinker: Self-motivated, resourceful professional skilled with tools of communication, writing, design process, user research, and technology. Bill sees connections that others don't. Software bugs can't hide from his trained eye.

Bill's on Goldfish Pond
80 Lafayette Park
Lynn, MA 01902 USA
Greetings!
I'd love to hear about your project or design needs. Let's meet up for some smart talk!
Sincerely,
Bill Sabram
1-617-780-0733